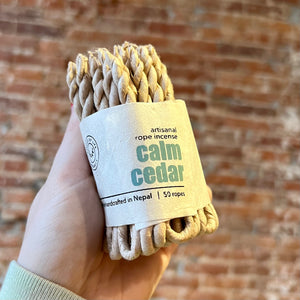 From Essence of Life Organics:
Lokta rope incense is the Traditional incense of Nepal used for meditation and offerings. Herbs, spices and aromatic flowers found in the high altitudes of the Himalayan mountains are blended together to create unique scents. The mixture is then carefully wrapped and braided by hand with traditional eco-friendly Lokta paper.
How to use:  Light the tip of the rope. Extinguish the flame by fanning. The rope will continue to release a fragrance. Place rope in an incense burner or in a bowl of sand.
Burn time per package is 50-60 minutes, each package contains 50 ropes.
Packaged with eco-friendly handmade Lokta paper, made from the Lokta bush.
Ethically handmade in Nepal
* No toxins, lead, parabens or phthalates
* Made only with high altitude herbs, resins, flowers and spices from the Himalayan mountains
* eco-friendly and clean burning 
* vegan, cruelty free
* Petroleum-free
* no artificial fragrances, perfumes, dyes or glues